It is important to build a strong credit history and score if you will need to seek a loan from a financial institution one day.  Do you want to be in a position where you have to borrow money?
Then think of these five factors that are normally determined by your banker before giving you that money.
According to I&M Holdings chief executive Kihara Maina, the better your credit score the greater the willingness of a lender to lend, all other factors held constant. 
"The credit score is really a summary of your credit profile," he said during the first 2020 CEO chat series held on Friday.   The chat gave focused on factors that influence personal credit scores and household borrowing.
The CEO Chat was conceptualized in 2012. They give chief executives from various Kenyan institutions an opportunity to engage with the public on wide-ranging topics.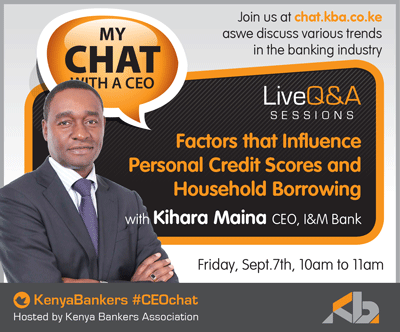 According to Kihara, credit scores are determined by 5 factors:
Payment History
The first factor and most important is payment history, for example,  do you pay your rent on time, electricity bills, and mobile banking loans? In the future, there will be more details that credit bureaus will collect so as to improve accuracy.
Credit Limits
The second factor is how much of your credit limits you are utilizing, so if you have a low usage of credit limits that is better for your score.
In other words, do not max out your overdrafts. Pay down balances frequently for revolving credit. (Revolving credit is a line of credit where the customer pays a commitment fee to a financial institution to borrow money and is then allowed to use the funds when needed.)
Frequency of New Credit
The third is how frequently you look for new credit. So, don't borrow from bank X online and then go to bank Y soon after. 
Don't switch cards often because this pattern suggests you have cash flow problems.
Usage of the Credit
The fourth is using the right solution for a particular need. When you have a diverse mix of credit (car loan for a car; mortgage for a house; credit card for day-to-day), it shows your ability to manage different types of credit, which is good.
Credit History 
The last factor would be your credit history, how long have you been using credit? The longer the better if it is well used.
Kihara says the Kenya Bankers Association is keen on addressing the issue of access and affordability of credit. He said in partnership with the Central Bank, initiatives like the Banking Sector Charter aim to harmonise efforts by all players in the industry in addressing these key questions.
"The Banking Sector Charter has several pillars that look to address access to credit for especially underserved markets like SMEs, the fair treatment of customers, the risk-based pricing of products, transparency of loan terms, and enhancement or improvement of bank business models to address the changing needs of the market," he says.
"Ultimately the banking sector charter should enhance the public's trust of the banking sector," he added.
Through the Banking Sector Charter, every bank is working on how to incorporate credit scores into risk-based pricing and ensure differential pricing for borrowers.
READ:
---